Commercial appliances are designed to handle the much of the work that goes on in businesses such as hotels, restaurants, grocery stores and laundromats. What makes these equipment different from household appliances is that they are designed to handle a high volume of activities throughout and the day and, at times, round the clock. Household appliances couldn't handle that much work efficiently. Commercial appliances thus tend to be much bigger and a bit more complex compared to their counterparts.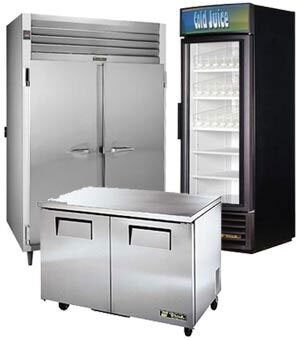 In many occasions, commercial appliances form the backbone of a business. Ranges, stoves, dishwashers, microwaves, and refrigerators, for instance, are at the center of meal preparation in catering businesses. In laundromats, washing machines and dryers are involved in almost everything that goes on in the business, while commercial freezers are essential for preserving fresh food supplies in grocery stores. Businesses that serve beverages need commercial ice machines to keep patrons well supplied with all the ice they need to put in their drinks.
Given the central role that commercial appliances play in your business, it's only natural that you'd want to keep yours running perfectly for as long as possible. Unfortunately, that is not always possible, given that all appliances are bound to experience wear as a result of aging and constant use. From time to time, the appliance may experience some defects such as:
The appliance won't come on
The appliance won't go off
The appliance keeps stopping abruptly while running
The machine makes a lot of noise while running
The appliance shakes violently when on
There are electrical wiring problems
The appliance leaks water or gas
One or more of the lights or displays is broken
These are just some of the defects a commercial appliance can experience at some point in its lifetime. What you need to do, once you've become aware of any of these issues, is to take urgent action.
The Need for Quick Action When Your Appliance Is Malfunctioning
If one of your appliances has suddenly become defective deal with it right away, because most appliance problems tend to escalate quickly when not dealt with. You don't want to spend a fortune to get things back in order. Besides, you invested in your appliance for a purpose, and if the appliance can't function properly or at all, then what good is it? Further, a defective appliance is almost always inefficient and is likely to consume a lot more energy than usual. Sometimes, the appliance can even be a security threat to you, your employees and your clients. A gas range that leaks gas, for instance, is a massive fire hazard.
So What Should You Do?
You have two options. The first is to buy a brand new appliance and get done with the problem altogether. That, however, can prove very costly, given that most top quality commercial appliances can set you back a few thousand dollars. That's not the amount of money you want to spend whenever your appliance has a defect. There's a better option, though. Call an experienced appliance repair technician to troubleshoot your appliance and repair it. This option is both very affordable and fast. If your commercial appliance is giving you trouble, you can reach out to us at Arrowhead Appliance Repair to assist you.
Why Choose Us
Arrowhead Appliance Repair is your one stop shop for the repair and maintenance of all kinds of commercial appliances. For many years, we have provided unrivaled services to business owners of Arrowhead and its environs. We boast a large contingent of exceptionally qualified technicians always on call to address any appliance repair and maintenance issues that come our way. Our technicians are not just EPA certified, they also possess vast industry experience. Therefore, you can count on us to restore your appliance to perfect working order, no matter how severe it seems. Some of the services we specialize in include:
Commercial freezer repair
Commercial range repair
Commercial washing machine repair
Commercial dryer repair
Commercial ice maker repair
We Work Fast!
We understand that your time is extremely valuable, so we won't keep you waiting. Once you call us, we immediately dispatch a competent technician to your business premise to help you out. We want to make sure that your business doesn't stall another second. Our same day service does not cost extra. You'll also be pleased to know that we provide the best rates around.
We Repair All Brands
Our technicians can fix all the top brands in the country.
Our service are available 24/7, all year round.
Contact Us
Contact your local, lake arrowhead technician now:
 (909) 219 6572