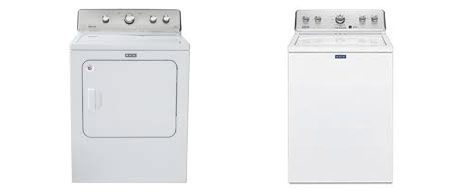 Dryers are often some of the most underrated appliances in the home. However, when yours breaks down, you'll be sure to miss it. These appliances are designed to make in-home laundry an easier, more convenient chore. Without your dryer, you would need to dry your clothes outside on your clothesline. Doing so, as you already know, can be quite time consuming and tiring. But even if it wasn't, the weather may not always permit you to dry your clothes outside, especially during the cold or rainy seasons. Thanks to your dryer, however, you can get your clothes any day you want, all year round. Dryers are also very useful to laundry business owners. In fact, without these appliances, the business would barely be able to run.
The central role dryers play in our lives and businesses is the reason you need to take good care of yours so it runs efficiently for many years. That can be achieved through regular maintenance. But even with the best maintenance, your dryer will still experience occasional problems. After all, all electrical and gas appliances are subject to aging and wear. That's why you need to be on the lookout for any signs of a defect so you can act quickly to avert further problems. But what drying machine malfunctions should you be watching out for?
Prevalent Drying Machine Defects
Dryers are available in a wide array of designs and models, but all of them are susceptible to similar problems. Here's a list of the most recurrent:
The dryer does not turn on or off as usual
The drum of the machine will not spin
The appliance produces too little or no heat
There's too much heat
The appliance is too noisy
The dryer takes too long to heat up
As soon as your dryer starts to exhibit these faults, you need to move quickly to find a solution. In many cases, defects on your electrical appliance tend to worsen rapidly and could ruin the appliance for good or cost a fortune to fix. If your dryer won't turn on at all or does not dry your clothes properly, it only inconveniences you y forcing you to find alternatives, some of which could prove expensive or time consuming. Even when the machine can still function in spite of the defect, it's very likely that the appliance is inefficient, and that means a lot more energy consumption. If the appliance is too noisy, then it's a nuisance in your house. The great news however, is that dryer defects can be solved. So what should you do?
The Perfect Solution to Dryer Defects
When your dryer has become defective, you can deal with the situation in one of two ways: replace the machine or repair it. If you choose to replace the appliance with a brand new one, then realize you'll need to spend a significant amount of money. A top quality household dryer goes for at least several hundred dollars, and a commercial one can set you back much more. That's why replacing your appliance should never be the first option. You are much better off seeking professional drying machine repair. Repair is almost always a lot more affordable and quicker. You only need to find a trustworthy appliance repair service. If your dryer is exhibiting problems, call us at Arrowhead Appliance Repair for assistance. We have what it takes to swiftly and thoroughly fix your appliance.
Why Choose Us?
Arrowhead Appliance Repair has, for many years, been the most dependable appliance repair service in the region, and for a good reason. We have an ample workforce that consists of highly experienced technicians capable of tackling all dryer problems, small and big. Our service delivery is a cut above the rest. We provide same day service, and it won't cost you extra. As you'll find out from the all-inclusive quote for repair service that we usually provide upfront, our rates are quite friendly. If your appliance needs any replacement parts, we always use original options. We are committed to making sure that your appliance gets the best. Once we have repaired your dryer, we always clean up the area.
We Repair All Brands!
Our technicians are equipped to deal with appliances from all the brands available in the country. These include Kitchen Aid, SEARS, Maytag, Sub-Zero, Thermador Electrolux, Roper, Whirlpool, Hotpoint, Frigidaire, Samsung, White-Westinghouse, Viking, U-Line, ASKO, BOSCH, Dacor, Admiral, LG, WOLF, American Standard, Goodman, and many more.
We are available 24/7.
Contact Us
For repairs, call +1 (909) 219 6572