Introduction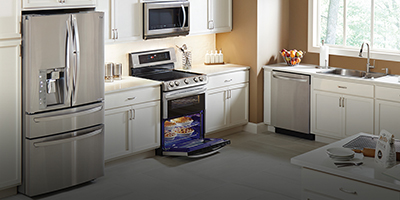 LG is a world renown brand of appliances, thise appliances are widely spread all over because they are considered to be top notch, infusing new technologies after constant extensive being carried by their parent company. Their company is headquartered in South Korea. LG appliances be it in our homes or in commercial buildings have gained much acclaim for their durability and level of performance. Being widely spread in and around Lake Arrowhead it is therefore by default that repair service companies come up for servicing of such appliances.
LG appliance Services in Lake Arrowhead, CA.
At some point in life as is common with most mechanical machines, you may have had your home or commercial electronic appliance break down for some simple dysfunction like burning of a simple fuse. What do you do in such a situation keeping in mind the costs and state of economy. You do not have to go back to an appliance store to purchase a new one. Thise is where our company comes in. With a vast experience and a team of well trained technicians we can come to you on invitation to offer you professional help that ranges from problem diagnostics to the actual repair. This way you get to continue using you appliance and in the process you will have saved on some money that may have been spent on buying a brand new appliance altogether.
Some of the LG appliances that we services include:
Washing machines
Air conditioners
Dish washers
Home theaters
Refrigerators
Microwaves
Ovens
Stoves
Why Choose Us?
a). Superior Customer Service Experience.
We pride ourselves as a company that has been known to offer the best possible solutions for consultancy in appliances repair within and without Lake Arrowhead. With a 24/7 manned call center our professional staff is always eager yo take your call, schedule you then send a technician your way. When the technician arrives, with your permission they will examine the appliance and give the best possible solution.
b). Professional Staff.
The staff we employ are very professional at what they do and trustworthy. We select them from a pool that has undergone rigorous recruitment processes. Apart from our technicians are brand trained meaning that the come equipped with instilled knowledge of specific brand, in this case the LG brand. This ensures that they have tailor made solutions for the different specific brands
c). Appointment.
Once you have called us for queries, our staff at the call center will schedule you for an appointment which we ensure that is followed up within a day of making the enquiry. This will ensure that inconveniences caused by the breaking down of your appliance does not extend to days, in some instances leafing to losses especially for commercial appliances.
d). Warranty.
Our company offers after sale services in form of Warranty. A warranty will ensure that you will get free maintenance of an appliance if it breaks down again before the elapse of the stipulated warrant time.
e). Tried and Tested.
Over a length of time we have been tried and tested as a company that offers great appliance maintenance. Customers have always given positive feedbacks for our services rendered to them in the past. With this lengthy experience you can be sure that our team will give you the right solutions as with age comes experience and wisdom
f). Factory Recommended Spare Parts
The spare parts our staff uses come as factory recommended meaning that they are satisfied spare parts by the specific brands for use on their appliances. Recommended spare parts ensure that after scheduled maintenance you appliance will last longer, avoiding break downs as a result of your appliance not being compatible with a certain spare part.
The next time your LG appliance breaks down in or around Lake Arrowhead you now know who to call. Be it early in the morning or late evenings, give us a call amd let us send a professional to provide you with the appropriate help you mighty need. With a call center that is manned 24 hours a day for seven days a week you are sure to get someone on the other side of your call to answer to your queries and give you the way forward as the schedule you for an appointment.
Give us a call and let the professionals handle you.